Z/28 - SS350 - SS396 - L/89 - COPO 427
Record Breaking Year for CHP
April 30, 2010, Atco, NJ, Jerry MacNeish sets the new NHRA D/Stock
National Record and runs an amazing 10.45 @ 126.21. Now NHRA certified
as the fastest 302 Z28 Stock Eliminator Camaro in the country! more pictures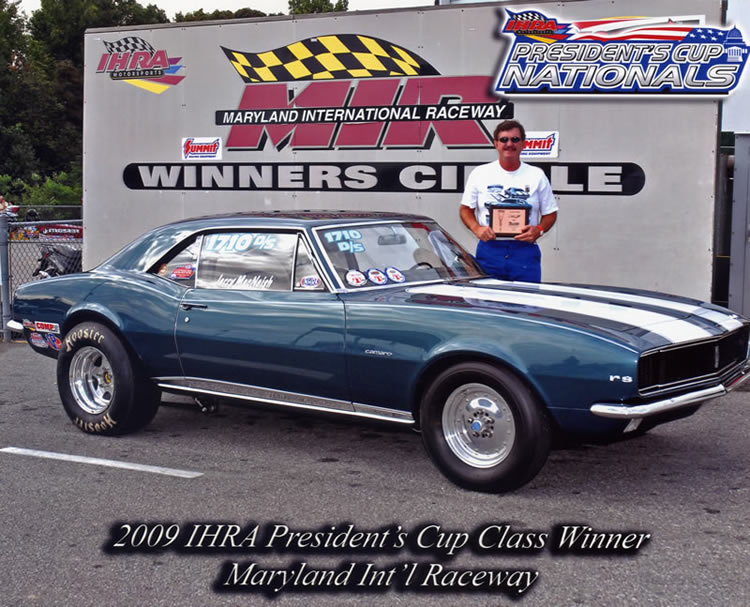 CHP continues to score big with our new 1967 Z28 Stock Eliminator race
car. On September 26, 2009, we won the D/Stock class and also received
the "Best Engineered Race Car" award at the IHRA's President's Cup
Nationals! Special thanks to all of our customer base for your support
with Camaro Hi-Performance.
Dave Stickler's legendary "Old Reliable" NHRA World
Championship Z28 is now being offered for sale. Read about it here
Welcome to Jerry MacNeish's Camaro Hi-Performance, Inc. Here you can find great information about first generation Camaros. Please check out our Consulting and Restoration, our Publications, our Vehicles, including The "Old Reliable" (Dave Strickler's World Championship Super Stock Race Car... The Ultimate Z/28. There is also information available about Camaro Hi-Performance, Inc., as well as the Official 1967 Z/28 Registry.
.
Read About Our Class Championship for E/Stock at the 50th Annual NHRA US Nationals.
click here for more info on the project
Lets take a ride in the 1967 Z28 D/Stock Camaro. 10.59 at 125 mph.
Read this new NHRA article about us, published September 17, 2005
THE CAMARO HI-PERFORMANCE 4TH OF JULY PARTY FEATURING JIMMY GILMER & THE FIREBALLS, 7-1-07